Denali Kennels - Rainbow Bridge
---
This page is dedicated to our dear friends waiting for us at the Rainbow Bridge. We miss you all.
* [Last Will and Testament of a Loved Dog] *
---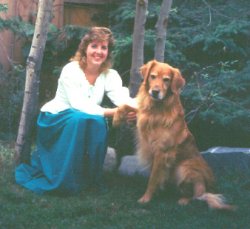 Buck
Buck was a Golden Retriever and the first dog I ever trained. He was truly my Best Friend. Never titled or even registered, he was everything a Good Dog should be. He joined our family "for Mom", but a big, red, rambunctious retriever was a far cry from the blonde cocker spaniel she had her heart set on. So Buck became mine! We went through 4-H (a class I highly recommend to anyone that can join a local group!), did showmanship, obedience and all the fun things a young girl can come up with to do with a willing dog. He pulled my wagon to deliver Girl Scout Cookies, our sleds in winter, condescended to play horse, was a shoulder to cry on with teenage heartache, ran rabbits in their season and out did field champions in real life bird hunting. He never did understand why he wasn't supposed to try to retrieve the chicken when my sister raised one for a school experiment...
Buck passed over on December 7th, 1994 at the age of 15+.
This was my favorite senior picture taken in the summer of 1988 in Alaska.
---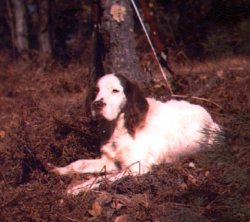 Hillcrest Star Patch
Patch was my dad's dog, but I was lucky enough to grow up with him. He was an English Setter, and one of the best hunting dogs, and best buddies I have had the pleasure of knowing. Patch lived to be 16. Patch was a wonderful babysitter, bird hunting companion, kids best bud, excuse to get out of restrictions (because the dog NEEDED to be walked!), cherished family member and a wonderful introduction to the joys of growing up with a dog. My family actually had Patch for a year and a half before I was born, so I consider myself lucky to have never been without a four legged companion.
This is my dad's favorite picture.
---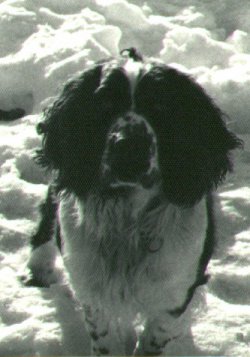 Sam
Sam was an English Springer Spaniel my family acquired when his former owners couldn't keep him from jumping their fence. For some reason he decided he liked living at our house better, and so they gave him to us. He was AKC registered and competing in conformation before coming to live with us. He quickly showed his love and enthusiasm for bird hunting. Unfortunately we lost him to Hypothermia while duck hunting.
---
Jazzi vom Denali
Jazzi lost her fight with Exocrine Pancreatic Insufficiency on December 8th 2000. She would have been 3 in January 2001.
Jazzi was a wonderful dog with incredible herding instinct that we were hoping to use to our advantage in the stock pens. Unfortunately for us, someone had other plans for her.
---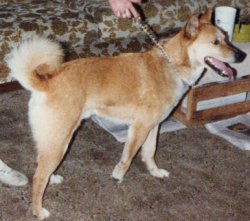 Tommy
Tommy passed over on December 29th 2000. He was approximately 17 years old and our educated guess is that he was a Siberian Husky x Basenji mix. He was found running the streets in Anchorage, Alaska many years ago while I was working at a vet clinic/boarding kennel.
He was the only dog that strangers were not allowed to touch. He had a learned distrust of anyone outside his immediate pack - he was severely abused before I brought him home. After all the years he protected me when I was living alone 3500 miles from my family, he had earned his right to a comfortable old age, no matter how 'cranky' he was.
Goodbye my Fox Face, I miss you.
---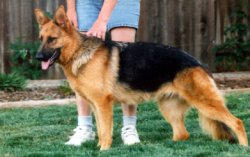 UI Winter vom Haus Drage AD,CERF,HIC,TDI,TC
Winter was a beautiful, mostly patient dog with high herding drives - which stem from HIGH prey/hunt to kill drives. Through her father, she unfortunately passed on issues with torsion and bloat and was removed from our breeding program when those issues were discovered. As a pet, she was good with the children and would have done well as an obedience competitor if my kids had been older. However she was a "fence eater" and ended up not ever being stock safe.
---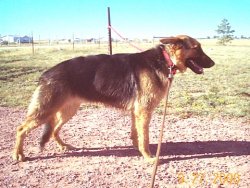 Becky vom Denali CERF
I was the first to hold you when you were born, still wet and wriggling into the cold world full of too bright lights. I helped your mom open the sack that had been your world for 9 weeks.
I watched you grow, and even through the ugly-duckling stage I thought you were beautiful. I promised you a forever home with us if you would just survive whatever nasty bug it was that grabbed you at 8 weeks old. I nursed you back to health on $9/ lb deli roast beef and chicken. Hand fed you and slept with you and loved you.
I watched you grow strong and learn manners, took you to school with the skin kids every day and watched all the kids fall in love with you too. I remember all the offers to buy you and the comments on how people wanted a dog "just like you" because you were so beautiful and sweet and well mannered.
I helped you through the deliveries of your own beautiful babies - you were such a good mommy. Your babies are following in your pawprints making homes happier places.
We miss you Becky, Bright Blessings and wait for us at the Bridge
---
Miss Heidi von Eidson - CERF
Pedigree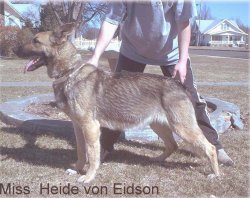 01/23/97 - 05/25/03
Heidi was a combination of German working and American bloodlines. She was my personal protection dog and had high prey and defense drives. She was wonderful to take in public since she liked people and was not animal aggressive (although she had a learned dislike of all chow chows). She was a tall, thin female. Standing 26 inches and 78 pounds was over breed standard for height. All her energy was expended patrolling the property. When bred properly, she produced normal sized offspring with all her drive and usually better pigment and structure. She produced sables, black and tan, and black and silver puppies. Heidi passed her incredible maternal instincts on to her progeny. She had taken in and nursed birds, cats, goats and other puppies. Heidi is our original alpha girl and will never leave here. She saved my life on at least 3 occasions, including alerting me to a gas "leak" involving the propane stove, and a short in an electrical cord that almost caught our house on fire.
Always in my heart
---
Merlin von Sendenensis - AD,BH,TT
10 April 1992 - 11 January 2005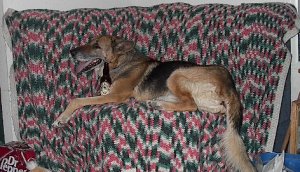 Merlin and his adopted daughter Moonpie (the horse)
Merlin spent his last several years as our official "Grandpa" dog and puppy trainer. He was the one to greet all newcomers whether they were dog, horse or human. He was fully trained in the sport of Schutzhund, and had earned his BH and Temperament Test (TT), He was imported and pink papered from Germany. Merlin loved to go out to the practice field and give the decoys a run for their effort, but severe dysplasia, blindness and deafness hindered him. We kept him as comfortable as possible despite his hips, knees and progressing blindness and he was happy and active till the end. His favorite activities included sleeping on the sofa, retrieving anything he could pick up, tormenting the girls, gnawing on his bowling ball and greeting visitors. Our UPS driver was one of his favorite people.
You more than earned your rest Old Man. Keep those youngsters in line and know we love and miss you. We'll see you at the bridge.
---
Denise vom Denali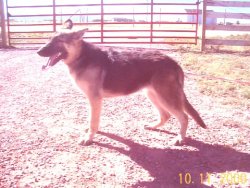 02/07/2000 - 01/24/2005
Affectionately known as "NeeNee", Denise was quite novel. At 15 weeks, NeeNee was 7.5 inches at the shoulder and 5 pounds. You would never recognize her from her puppy pictures. She was on the small side of the breed standard (22- 24 inches for a female). Her hip x-rays were wonderful.
She had wonderful drives that proved her breeding and everything that you want in a GSD except an immune system and loved to cuddle. She was our 6 year old sons loving pet. NeeNee is black and Tan. The picture below is of her at 15 weeks.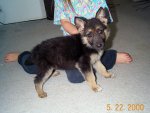 We turned down several homes for Nee Nee over the years from people that wanted to breed "miniature GSDs".
Be nice to your momma and Heidi girl. They'll keep you company till we meet again.
---
Obscure du Val des Hurles Vent
TAN breed quality, hips a/b
07/23/1998 - 04/11/2005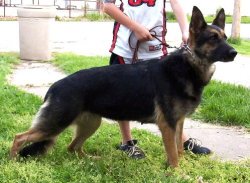 Obie was a very nice French import working line female with even better pigment than this picture shows. She was sweet and willing, highly food driven, loved children, tolerated the cats well, completely house & car safe/trained (even ignoring the trash!) and totally ignored the livestock. The day we picked her up, she fell asleep in my (then) 7 year old son's lap.
She is the littermate sister to Obelix du Val des Hurles Vent, the 2003 Mondio Ring 3 Champion of France. With her previous litters, she has out produced herself in conformation and passed on her pigment. Her son from her first litter in the US was VP-2 at the Mid Eastern Regional (USA) conformation show in 2003, beating show-line puppies.
---
Fig's Pinafore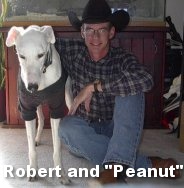 DOB:
Fig's Pinafore, better known as Peanut, had a rough start in life. Like most Greyhounds in Colorado, she was rescued from the dog track after loosing too many races... Peanut is one of the lucky ones... She survived her loosing streak and found a permanent retirement home at the age of 6 years.
Robert had always wanted a Greyhound, so the search began. We chose her in particular as she was deemed "un-ado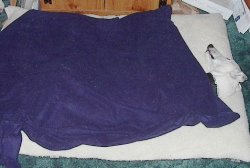 ptable" after being in rescue for 9 months and bouncing through 6 homes - being returned because she was "unable to be housebroken", "refused to bond", & "doesn't like people". While still nervous around strangers, she LOVES her Daddy, likes to think she is the alpha dog, is totally housebroken, has learned basic obedience commands (Bil-Jac liver treats are THE incentive that works!!!) and is basically a spoiled brat.
---
V Tannie v. Gross Zunder SchH3, Kkl 1 "a" fast normal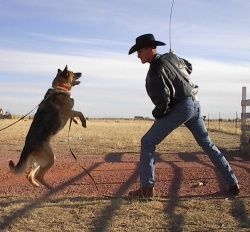 Tannie is an awesome girl. I purchased her for her bloodlines and titles as a hopeful foundation breeder, and while we love her dearly, ended up with a $5000 pet since she is infertile. Tannie is a good lesson in checking your sources thoroughly before paying high prices.
While Tannie has her faults (female dog aggressive, force trained, never housebroken, cat killer, infertile), she is an awesome guard and playmate for my daughter. She is a dog y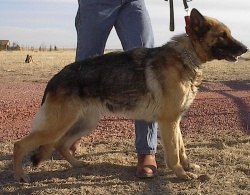 ou can take anywhere in the vehicle and literally leave the keys in the car, windows down all the way and have NO fear of anyone touching anything; or trust to guard your children while out walking in any neighborhood. She is not a "nasty" dog, and enjoys people - just don't touch her car or hurt her kids. Tannie's favorite activities are playing with her kids, playing in schutzhund, swimming in the pool, retrieving anything she can pick up, and "killing" her bowling ball.
Tannie turned into my daughters constant companion and self appointed guardian. We lost Tannie in January 2007.
---
Highview's Giffy
DOB: 12/31/97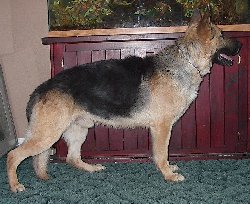 Griffen is a very nice black and tan standard coat intact male. 5/6 German working lines and 1/6 American show lines, he combines the best of both types. Flawless temperament, nice size, protective when needed; this is a dog that turns off and on like a light switch. This boy can go anywhere, be with anyone and his handler will never have a problem with him. Very protective of handler, family and property, perfect in the car. He DOES NOT like cats but tolerates the ones in the house. Is great with livestock and other dogs, gun broke, house trained, crate trained, on and off leash obedience (little rusty off sometimes), retrieve drive high, loves the water.
---
Fina vom Denali
DOB: 06/04/2000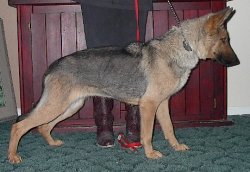 Fina is a small standard sized (22+ inch) red/gold sable female. 3/4 European lines and 1/4 American lines. Well proportioned, willing to please, Beta personality. Easy to handle, protective, crate/house/car trained, basic on leash obedience, good nose, fast & extremely agile. With work would probably make an excellent agility competitor. Fina has pups in training for full personal protection work and as Service/Assistant dogs, herding dogs and agility competitors.
---
James vom Kirchtal
DOB: 11/22/1996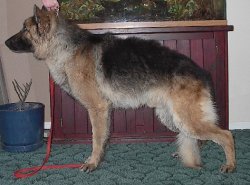 Beautiful all the way, came into our lives 5 years ago very much in need of a home.
We were the lucky people who gave him that secure place to be, but it was our family that had the privilege of being with him. He adjusted well in every situation. We were the 6th home for him, and he was so able to love us and show what a real champion was. Temperament, beauty, and brains, he had it all, and we feel so lucky to have known him, and to have had him in our lives.
THANK YOU JEN;
DELORES, BOB, & MARK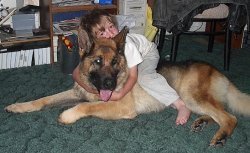 James lives on here at Denali Kennels in his daughter Kira and granddaughters Yanaba and Erin and in our memories.
He leaves some really big pawprints to fill.
---
Name: Zofie vom Denali
DOB: 24 August 2006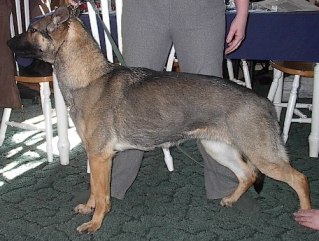 Zofie is a beta female. Beautiful conformation, nice coloring, uses her nose and is learning quickly. She is a mid sized female with a beautiful broad chest and is very quick and agile... Zofie has basic obedience training and is testing for tracking/narcotics detection. She LOVES the water. Competes with her sister Zelda in attacking the kong. Better pigment than her sister, but softer personality. Zofie does have 2 absolutely perfect but slightly mismatched ears - her left is 1/4 inch smaller than her right.
Picture dated 17 Feb 08 in winter coat. She is a close coated sable.
---