Denali Kennels - The Boys
---
Welcome to the boys page. Come on in and don't be intimidated; our boys are almost as friendly as our girls!
---
Tank z Eurosportu
DOB: 20 November 2006
Dam: Demi z Eurosportu SVV1, SchH2
Sire: V1, CAC, CACIB, BOB Galant z Pohranicni straze SVV3, SchH1, IPO1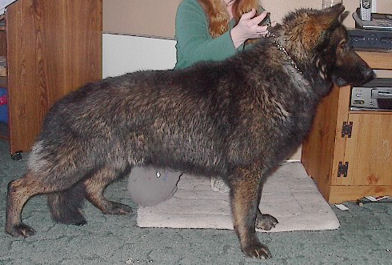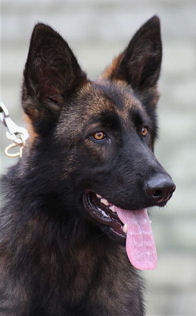 28 months, head pic at 7 months
Tank is the son of my dream dog and we are very excited to have him join our breeding program. He will bring in new depth of pigment, the solid black gene and continue our goal of sound conformation and minds with solid temperaments. Our plans for Tank include siring a few select litters this winter and then sending him back to Slovakia to earn his titles before he comes home for good. Tank is a black sable with a standard coat. He is often mistaken for a solid black when he is dry (which in summer is rare as he loves his pool) His side picture was taken just out of the bath with a towel dry only.
Thank you Taunya of Eurosport K9 for allowing us the opportunity to share our lives with this boy.
Tank is producing massive bone, even on his female offspring, deep pigment, amazing minds and DRIVE in his pups.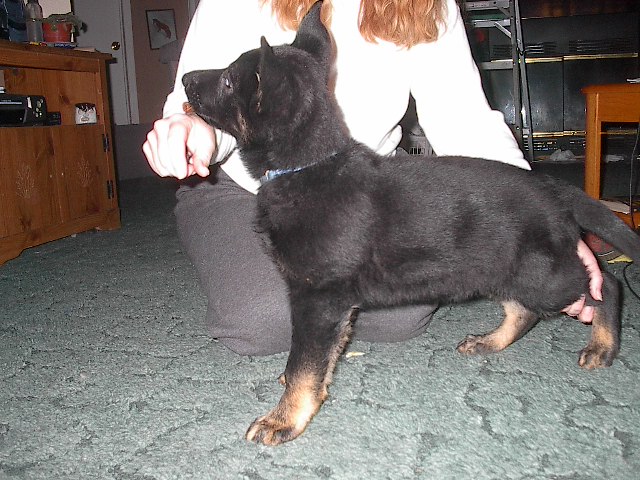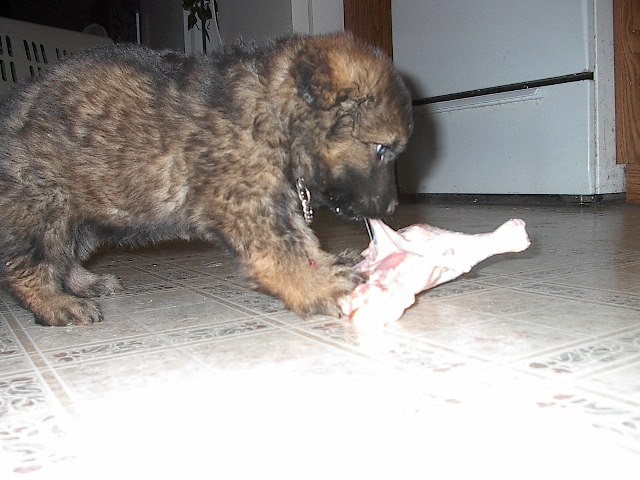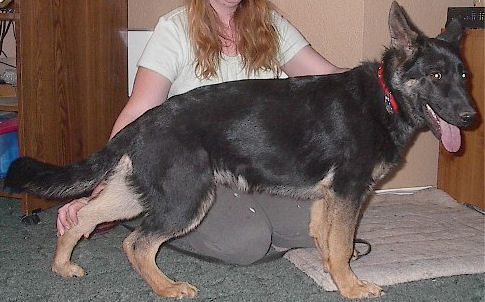 ---
Sony Neresnicka dolina
DOB: 8 August 2008
Dam: Java Neresnicka dolina SVV1 FPR1
Sire: Xac z Pohranicni straze ZVV1, IPO2, SchH1, ZPO1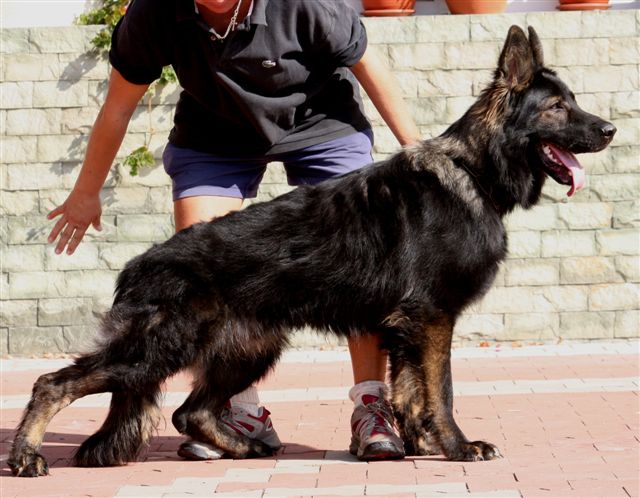 Sony is a big, goofy, happy boy that lives to please his handler. His pedigree can not be faulted and goes back to some of the great DDR lines. Another wonderful Slovak import from Eurosport that while too protective to be a service dog will be an excellent cross for our Tank daughters.
pedigree pg1
pedigree pg2
pedigree pg3
---
Cuchulainn vom Denali
DOB: 27 October 2008
Dam: Zelda vom Denali
Sire: Tank z Eurosportu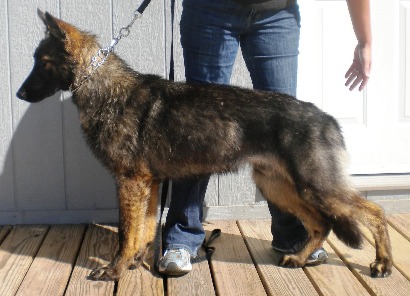 Cu has finished going through the "ugly puppy" stage of all knees and ears for now. He is outgoing and inquisitive and rowdy and views all visitors as playmates for his royal self. Current favorite activities include tormenting Iggy or Fassa and stockpiling toys. Picture taken at 10 months. He is HIGH drive and very intense in everything he does.
Check out the bone and pigment Tank is throwing in his offspring... and notice the gorgeous topline. Cu is a standard coated sable coloured male.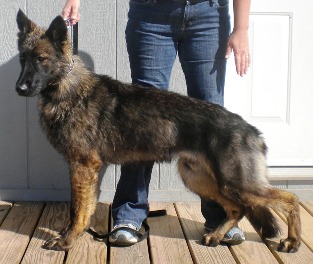 Same day and you can see how stretching that one leg just a bit further gives the impression of more angulation and a sloped back.
We are very happy with how Cu is growing up. Picture below at 3 months.
---
Draegone
DOB: 5 February 2008
Dam: Inka Mil Fre SVV1
Sire: Erri z Blatenskeho zamku SchH3, IPO3, ZVV1 Nat'l champion Czech Republic 2007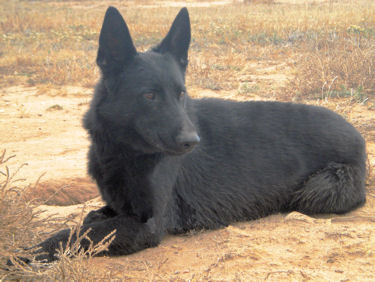 Photo taken at 21 months
Drae is a busy, active and happy boy that has a hard time keeping still yet. His prelim x rays are good and Drae out-produces himself with his offspring having good chests, hips, tails and being exceptionally intuitive and driven to please their owners. Drae is coming along nicely with his training and *wants* to please. He works readily for praise or food. He has high prey drive but we have not tested him in defense.
Drae is a minimal bi-colour, meaning he only shows brown between his toes. We know he carries the solid black gene from his daddy. Right now he is at his teenage rangy look being all legs and ears and a bottomless pit for a stomache. He is great with all the girls and Iggy, but we've not tested him with Tank and probably won't.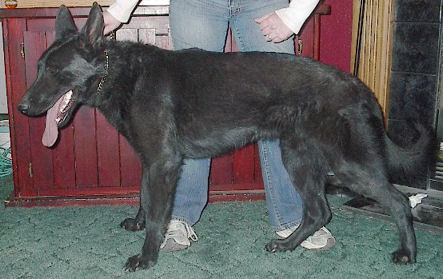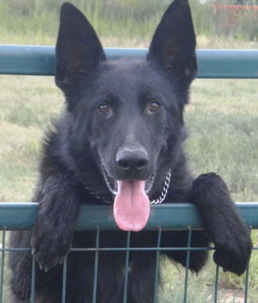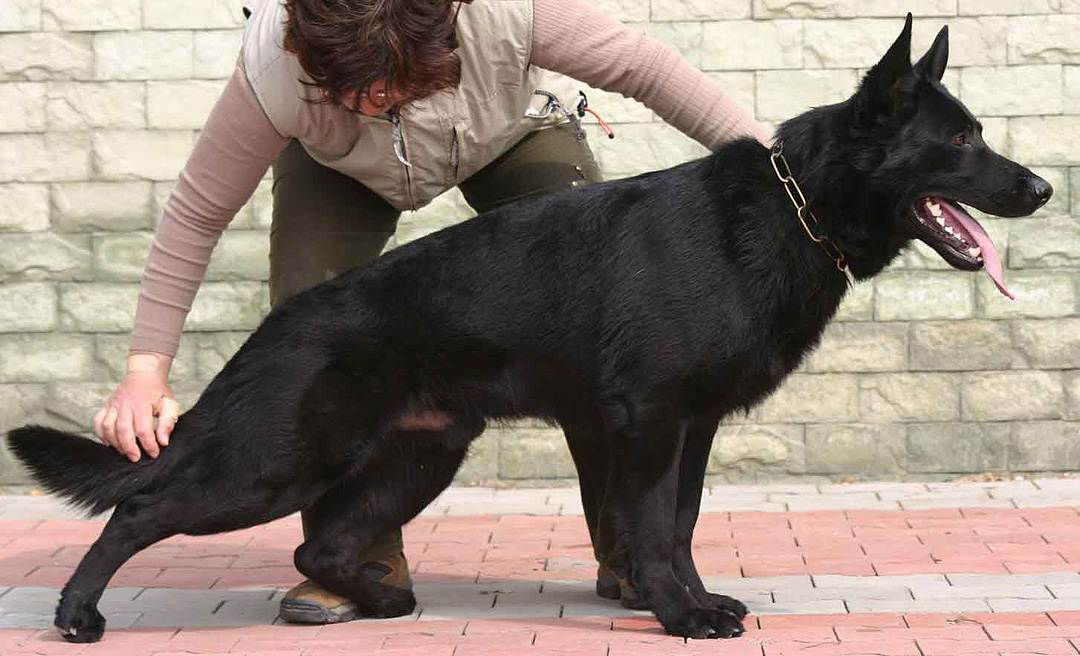 Mom Dad
---
Our males will be available for outside stud service on a limited basis. All females must have the following to be considered:
AKC FULL registration

Hip evaluation from Penn-HIP, OFA, "A" stamp, or other recognized registry

Elbow evaluation

Current negative test for brucellosis from MY vet for live coverage. Current negative tests from other clinics will be accepted for AI breedings ONLY.

Current on vaccinations or current titer test

Family health history - parents, siblings, half siblings, aunts/uncles and grandparents regarding at the minimum: bloat/torsion, perianal fistulas, spinal myelopathy, epilepsy, von willibrand's disease, Exocrine Pancreatic Insufficiency & pannus (this information should be available from your female's breeder!)
---