Mascots, Retired and Pets Page
---
Fassa vom Denali
DOB: 06/04/2000
Dam: Miss Heidi von Eidson
Sire: Panonia-Telepi Idon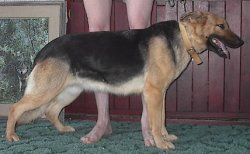 Fassa is an average sized (23 inch) black and tan female. 3/4 European lines and 1/4 American lines. Well proportioned, willing to please, Beta/Alpha personality depending on time of year. Easy to handle, proven protective instinct, house/crate/car trained, basic on leash obedience, proven producer. Could have take on basic home protection training. Fassa has a son working as a Physical Assistance dog. Fassa's shortcomings in training are entirely MY fault. She was 6 months old when I became a single mom to 4 and had to go back into the real world of the working parent. While her emotional and physical needs were met, her training stalled. She has, however, repeatedly proven what her bloodlines can do by what her offspring are accomplishing on a daily basis.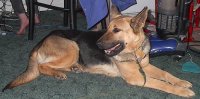 Fassa is our "grumpy old woman" who spends her days lounging around, guarding the house, greeting guests, and teaching the next generation of pups how to behave properly. Her other main goal in life is to take on any stray orphan and mother it.
---
Ulla vom Ausland
DOB: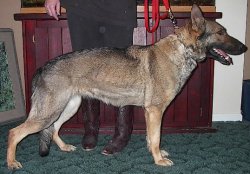 Ulla is a very tough, very masculine working line female with a ton of fight drive, strong prey drive and a well developed sense of independent thinking - even though she is a complete "mommy's dog" and prefers to be at least near if not touching me as often as possible. At 68 pounds, she is the only dog on the property that can easily pull or knock me on my butt from shear strength. She does, however, calm & slow down for the children (usually). This is a true born protection dog - knowing automatically who is or is not a threat and taking appropriate actions. Ulla is excellent in the car & behaves beautifully in the home although she thinks she's still a lapdog at times. This is one absolutely SOLID female.
---