Denali Kennels no longer offers on site or on premise training, however, we'd be happy to talk to you about training issues or problems and if needed, refer you to a local trainer.
---
Dog Training Methods
A well trained dog is achieved through positive reinforcement of acceptable behavior, rewarding the dog using praise and fun as opposed to using food or treats to coerce the dog into performing and correction of unwanted or dangerous behavior. We want the dog to perform well because it wants to please you, the dog owner. Additionally, we spend quite a bit of time teaching the owner and family how to positively interact with your pet in your environment. For this reason we ONLY offer one on one training services at your home as opposed to large groups where we cannot provide the individual attention required to ensure you and your pet are confident and comfortable.
There is no one method, one tool, one way to train that works for every dog. Each animal is an individual and you must be able to determine what drive your dog is working in and what motivation works best for each one.
---
Dog Training services
Puppy kindergarten - Puppies from 9 weeks to 6 months are welcome in these classes. Upon receiving your new puppy, it is important to ensure the puppy and the owners get off on the right paw! We'll cover basic obedience, bonding with the new pack, puppy psychology, as well as commands and recall.
Basic Obedience - Designed to benefit owners with dogs over 6 months of age, in our basic obedience classes we expand on the basic commands and discuss advanced pack dynamics and identify any behavioral issues which may need to be addressed.
Behavior modification - If your pet exhibits behavioral issues such as door bolting, house training issues, counter surfing, lack of recall, aggression or other behaviors which could lead to a lower quality of life for your pet and family, our behavior modification class will address and correct those unwanted behaviors.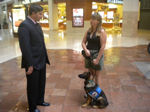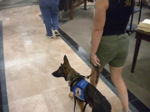 The photos above are of Gerda vom Denali in service dog training at the Citidel Mall in Colorado Springs, CO. This was Gerda's FIRST time out in public. She's being trained as a hearing alert and physical assistance dog
---