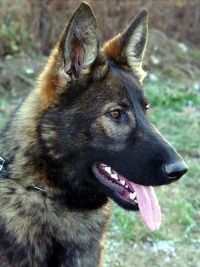 Denali Kennels is a small kennel / German Shepherd breeder located southeast of Colorado Springs, CO concentrating on temperament, health, trainability, and beauty with working ability. Our German Shepherd Dogs are of mostly European stock, either directly imported or from imported parents. Our breeding goals are to produce the "golden middle" with dogs that are able to do any job required of them without being so driven that one cannot live with them in the home environment. We want to produce dogs that are not only a joy to look at, but also a joy to live and work with daily. We strive to produce moderately angulated dogs with the ability to do what the breed was designed to do in the beginning - work.

Letter from the President - 4/14/2011
It is with a heavy heart that I must announce that as of April 15th 2011, Denali Kennels will be taking an extended break from breeding after 12 years of producing some of the best dogs, pets, buddies, service animals and sport dogs anywhere.
Denali Kennels will remain available to honor our commitment to our clients and owners to provide telephone support and advice for the life of the dog.
We are currently placing our remaining dogs, if you are interested in purchasing one of our babies, please visit our available dogs page and contact us at rbutler@denalikennels.com for purchase information and price.
We appreciate all of those who have been a part of our lives for so long, we love hearing from you after all these years and your emails mean the world to us. Thank you. Please keep in touch and let us know how your little monsters are doing we still love pictures!
Thank you again,
Robert Butler
President and Chief Operating Officer
Denali Kennels, Inc.