Denali Kennels - Puppies that found loving homes
We do our best to keep up with our puppies and the families that they live with. Here are a few of our placed puppies and the owners comments. The pictures are sent from the owners of the pups. We thought it would be nice to share them. :)
Stories like these are why I breed!
---
Nemesis vom Denali
Call Name: Neme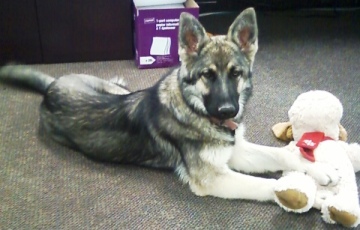 DOB: 15 July 2010
Location: Colorado
Family: Goforths

Owner's Comments:

Hi Jennifer,

Just wanted to give you an update on Neme, she is such a fabulous dog!!! She is perfect for our very busy family she is a GREAT companion for all of us, full of energy and the best disposition we could ask for. She goes to work with me quite often, and she just brightens everyone's day.

Just after these pictures were taken (in fact the very next day on 1/22/11) she had a run in with a bob wire fence while chasing down a rabbit. Unfortunetly the bob wire poked thru her cornea, she is healing very well, however will probably end up blind in that eye, but don't worry it hasn't stopped her. In fact you would never know anything was wrong until you actually get close to her eye, she is still go…go…go… If anything she just became more loved and spoiled. J

We are excited for this year with Neme and will be contacting you come summer time for another puppy.

Hope you enjoy the pictures and we'll talk to you soon.

Thanks
Heather Goforth
---
Call Name: Jakota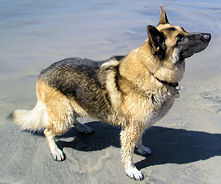 DOB: January 1999
Location: California
Family: Limbo
Owner's Comments:
Hello,
I purchased "Bear", renamed Jakota, back in March 1999. His sire was Jocko Shy-Boy Shadow and Dam was Miss Heidi Von Eidson. I am writing to let you know that last Sunday I had to say a very tearful good bye to my best friend and adventure partner in life for the last 11+ years. Jakota was trained in search and rescue while I lived in Colorado and spent the last couple years in retirement with me in sunny southern California. Enclosed are some pictures that I thought you might enjoy seeing. Jakota was an amazing dog and changed many peoples perspective on German shepherds. He was amazingly smart, a great protector and a beautiful dog.
Although we are not yet ready to get another dog we will be looking to get a new dog within the next few months and are interested in a male dog from the Kira vom Denali litter that are expected to be available in October. We would be coming in from CA and would love to be considered.
Thank you for providing the opportunity to have such a great dog for the past 11 years!
Kindest regards,
Krista Davis (was Krista Limbo when I purchased Jakota)
---
Call Name: Titan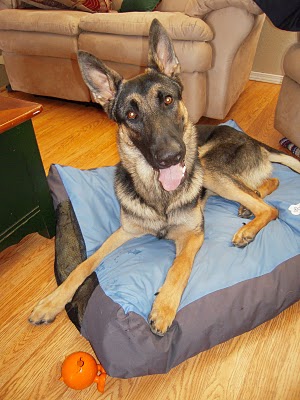 DOB: 4 November 2009
Location: Colorado
Family: Tucker

Owner's Comments:

Jen-

Here's a 10 month picture of Titon for your website. Titon is the best dog we've ever had. Fully alert and herds Skyler away from the street when he gets too close to the curb. He has an obsession with his Jolly Ball and Cuz toys. Training has been awesome with him and he was the star of his puppy training class with Jim from CoolK9's. We will be getting back to training with Jim sometime this winter for more in depth training/protection work.

Hope all is well with you and maybe we can bring Titon out to the kennels to play.

-Erich Tucker
---
Call Name: Gerda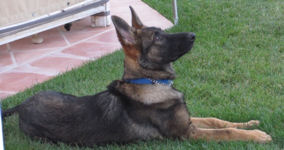 DOB: 18 April 2009
Location: California
Family: Seaman
Owner's Comments:
The flight was memorable.
Gerda charmed even the customs people by giving them kisses whilst they were checking her for hidden bombs!!!
She lay at my feet sometimes on her back with her legs in the air. She was without doubt the most relaxed passenger on the flight.
Her behavior was exemplary and I even went to sleep.
We are waiting for David's flight to arrive - at Nicolette's home and she has frolicked in the back yard with the hoof and is now lying at my feet but on full alert listening to the sounds of suburbia.
I tried to get a picture of her looking out the window at the children playing but she was distracted when I stood up to get the camera.
Will send photos when we get home,
Mem
Gerda is settling in very well. We are constantly amazed at her sweet disposition and gentleness.
She romps happily with Tu-Tu who mostly is looking for an opportunity to give her a nip.
We went on an hour long walk this morning and she was most puzzled to see joggers going by. She looked at me as if to say - what the heck are they doing - am I supposed to chase them??
We also did some grocery shopping together and everywhere we go there are questions and comments on her beautiful looks and behavior.
She collects shoes and stores them in her crate. She has a very soft mouth and has not damaged anything. I do toss her large plastic bottles and she has lots of fun with them in the garden.
She discover a few balls and has been playing with them too.
Had a little grooming session just to practice and she was just fine with that.
I line up the dogs and give them each a vitamin and although she's not sure what it is - Tu-Tu woofed it down so that's good enough for her.
She had the squits so today I gave her the best part of a chicken for some more bone.
She has chosen the opposite side of the garden for her private toilet and happily trots out there to my praises and hurry ups.
She figured out the doggy door in about 5 minutes flat and has bypassed the bell ever since.
As you can tell...we are having a ball and repeat our grateful thanks for all your excellent advice and wise choices.
I love my girl and am so very happy to finally have her home with me.
More news and photos will follow,
Mem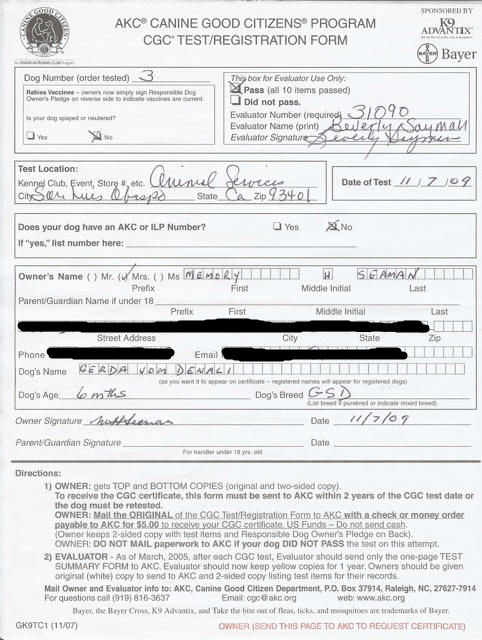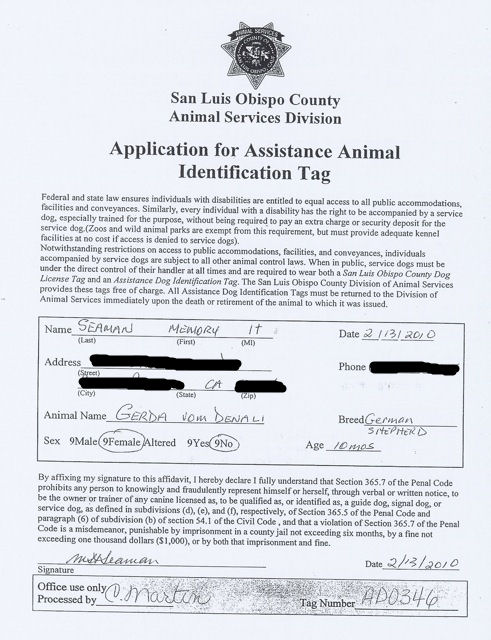 ---
Ferdia vom Denali

Call Name: Titan
DOB: 28 Feb 2009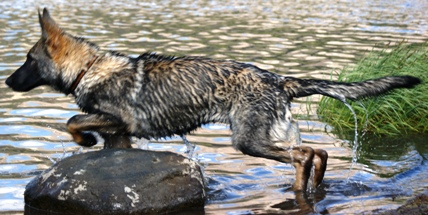 Location: Colorado
Family: Kindell
Owner's Comments:
Hello Jen,
I hope you and your family are doing well. Here's a quick update on Titan's progress. First, he is doing much better on current diet and he is growing like a weed. It took us about twenty days to switch. Other than that he is doing exactly what is expected. He came with an automatic sit as I never had to teach that command to him. At 11 weeks we are able to hold eye contact until released approx 15 sec, can do a sit-stay-come-sit with walking away about ten feet at about 85-90% consistency, are almost housebroken and is my constant companion unless sent outside with the kids. And on that note we spoke extensively about protection for the children being that we live on acreage and are prone to wildlife visits. Our wild exploring two year old son has "escaped" the backyard twice with one quick look away and we are proud to say that Titan stayed by his side as the two of them made it into the goat and chicken yard. This is going out one gate, into the front yard, and through another gate. I was watching the two of them just yesterday and that dog just laid down about ten feet from him and watched his every move.
Titans days are spent at "doggie daycare" (aunt's house), going with Greg to the office, or accompanying the babies to grandma's house. So needless to say he is becoming quite socialized. All of that and I'm still the one who is "his human". It is the perfect combination. I couldn't be happier. Thank You for everything you do and for keeping the breed standards high. Will send pic's later.

Christine Kindell and family 24 May 2009
Hello Jen.
More on Titan. In our short conversation tonight there were a couple of things I thought you might want to know about Titan's personality. This dog, like his mother, LOVES the water. When he was younger I would have to make sure the bathroom door was closed tightly or he would find a way into the 2 and 3 years olds bathtub. And while he has outgrown this he still will find a way into any sprinkler, hose or pool. Like I told you before he does exactly what he was chosen for, guarding the wild three year old. Interestingly enough the three year old can call him back to his side and Titan will be there. He alerts us when anyone comes up the drive but waits for our reaction before he reacts. He also LOVES to "chase" bullets. The first time we were target practicing in the backyard he joined us and we had to keep stopping and changing where we were shooting to keep him safe as he would chase the puffs of dirt when the bullets hit the ground. He does have a strong prey drive and is definitely not to be trusted when the chickens are free ranging, but can be called off easily. He also enjoys feeding time in the morning and follows me to the barn to feed the horse, chickens and goats. His favorite part is ridding the property of the rabbits. As far as our cats go if they run he will chase but when they stop he just looks at them wondering why the chase is over. He has been such a great addition to our family and we couldn't be happier.
Enclosed is a six month old pic of Titan enjoying a mountain lake in Wyoming. We took this on our road trip to Washington.
Christine Kindell 12 December 2009

---
Fea vom Denali

Call Name: Sango
DOB: 28 Feb 2009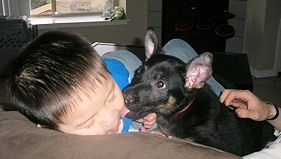 Location: Colorado
Family: Eiland
Owner's Comments:
Hi Jen,

Just giving you an update on Sango. She went for her vet check up and vaccines yesterday, and is doing great. Always getting compliments on her coat and body structure. Personality is still fantastic. We are keeping very highly social, and more than anything she loves children. However she is selective, for example just the other night I was in my son's room getting him ready for bed and my husband was taking her kennel down the hallway and she couldn't see who he was, she had an alert bark and immediately went to the doorway to check things out... she is by no means a coward and steps up to the plate when she feels its needed. She then of course calmed right down as soon as she saw who he was. She's a very quick learner the vet and her assistants were impressed by what all she has learned so far at her age. She watches carefully how my son interacts with me and tries her best to mimic that... coming over to sit on my lap and then grumbling very softly almost like baby babble, and when she sits in my lap she tries to sit just like he does feet up and all. She has become a wonderful addition to our family, thank you so much for raising such great dogs.

- Eiland Family 28 May 2009
Hi Jen,

Once again I am emailing you with some updates on Sango. She is doing great... 14 wks and about 25 pounds. I wanted to say how wonderful she has been for us. Today my son was outside running and he strayed away from my husband and me. Sango was on her leash with me and she went crazy, crying and trying to turn around. I of course let her fall back with him and when she got to him she tried to corral and heard him back in front with us. I am so happy to see how she is watching out for him. Also I wanted to add my husband took her to work with him today and one of the soldier's he works with over the past few months has been having extreme panic/anxiety attacks as well as a seizure. Typically Sango thinks everyone is the room is there to run and play with her and she runs over and kisses them and tries to get them to play along. This man though she was very careful with when she walked over to him and sat right between his legs when he was standing up, and she remained next to him until she was called away by my husband. I don't know if perhaps she sensed something different about him.... due to his panic attacks or seizures. It made me think if her possibly being a therapy dog one day? Maybe it was just a fluke? I wanted to tell you about this and also get any in put on the subject from you.

- Megan Eiland 12 June 2009

---
Epos vom Denali

Call Name: Echo
DOB: 15 Jan 2009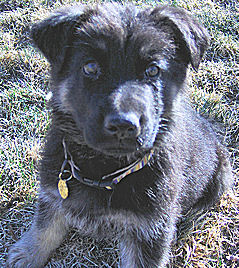 Location: Colorado
Family: Carson
Owner's Comments:
Good morning Jen! The vet came over yesterday for her "getting to know you" visit with Echo and me. She fell in love with him! And, he seemed to like her. She really appreciated the health information card that you gave us. She did wonder what you had used to worm him so she could have very complete records on him. She was impressed with how strong and handsome he is. We scheduled his next shots for April. Echo now sleeps for 3 and a half hours at a stretch at night and when we come back in from going potty he just settles right back in with now fussing. He loves to help do laundry though his idea of sorting clothes isn't quite the same as mine, he is very good at taking the clothes out of the laundry basket and putting them in piles. His new discovery is unrolling the toilet paper and stringing it across the house. I've attached a photo of Echo surveying his yard. He is such a joy even when he is getting into mischief. Thanks again.
Amy and Brian Carson 20 March 2009
Good afternoon Jen!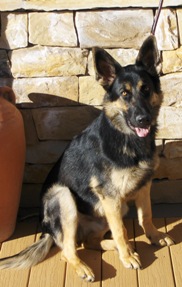 I thought I'd take the occasion of Echo's first birthday to send pictures of him taken today and update you on him. He's such a big boy. He's 27 inches at the shoulder and weighs 85 pounds--all muscle! Brian and I often joke about how someone came in and took our little puppy and left this moose in his place! He is the sweetest, most loving dog. He is also incredibly strong and smart! His vocabulary is incredible. Along with all the standard commands he knows the names of all his toys, "greenhouse", "play by yourself", "find (insert whatever you want him to find here). He has been invaluable in finding my keys, my cell phone, my shoes, my purse, etc. One of his favorite games is to find either me or Brian. He has an amazing tracking ability! He is still such a puppy and goofball. He is also very protective of me and watches out for me. He has seen me fall off the step stool on more than one occasion so now when I get the step stool out of the closet he does one of two things: if Brian is home he gets Brian and brings him to where I am by holding his wrist in his mouth. (We never taught him this, he just started doing it. He doesn't bite but holds your wrist very softly in his mouth to take you where he wants you to go.) If I am home alone he takes the legs of the step stool in his mouth and pulls it back to the closet. In other words, "You're not going up on that unless dad's home!" He figured out how to open the french doors so he could come in the house without us letting him in. He hasn't learned how to close them yet but we're working on it. He rings the bell when he wants to go outside. We can leave him in the house loose when we leave and know everything will be just as we left it--nothing torn up, no accidents(though I suspect he takes the opportunity to sleep on the couch).
I keep forgetting to tell you that we had his hernia repaired in May. It was not getting any smaller so when we had him neutered we had that repaired too.
Know that Echo is loved very much. He brings so much to our lives and our home every single day. Thank you for making our lives so much richer with this wonderful dog!
Amy and Brian Carson
---
Carlin vom Denali

Call Name: Berg
DOB: 27 Oct 2008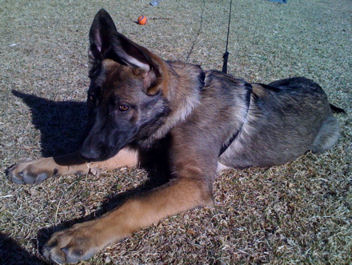 Location: Colorado
Family: Hickson
Owner's Comments:
Hi Jen,

I just wanted to check-in and let you know that we are enjoying Berg tremendously. We've been through the first phase of puppy training at Pet Smart and he passed almost all of the skills. He has doubled his weight (now at 39lbs) since he first came home. He's extremely intelligent and strong as an ox. He's easily distracted (reminds of me of a person with ADHD, LOL), but I'm certain that some of that is just puppyhood.

Again, we wanted to thank you for your service and professionalism and, most importantly, for raising great dogs. I've forwarded you two pictures of him. His ears are standing up!

Amy - 17 March 2009
---
Alain vom Denali

Call Name: Harry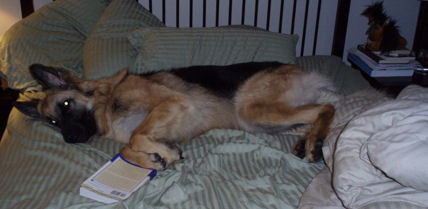 Location: Michigan
Family: Lynch
Owner's Comments:

Jen,

Just wanted to give you an update on Harry (Kira and Highview Griffy, January 2007) as he nears his second birthday. Harry is an wonderful addition to our family- he has made the move with us from Colorado to Michigan, and is our constant companion. He goes everywhere possible with us, and is doing great at his off-leash training. When we were still in Colorado, he went to work with Scott most days and was an honorary and well-loved member of Attack Company. Besides continuing to awe us with his intelligence, he is a huge lapdog and has the best temperament and more personality than we know what to do with. Plus, he is absolutely gorgeous and gets compliments wherever he goes! He will chase his favorite blue ball for as many times as you will throw it, and is a complete bed-hog. We just love him!! We hope to be contacting you again in the not too distant future about getting a second puppy, maybe one related to him- we noticed that his mother has some upcoming litters planned, and that you still have his sister as well.
-Jeniffer and Scott

---
Yorath vom Denali

Call Name: Yuri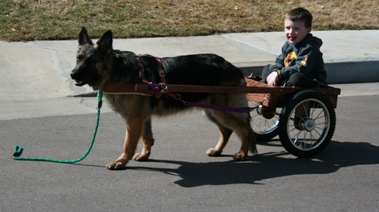 DOB: 26 June 2006
Location: Colorado
Family: Ramey
Owner's Comments:
Jen,
I wanted to drop you a line and let you know how Yori is doing. The attached picture is Yori at 8 months. (not the picture here) He is everything I had hoped for and he has acclimated very well to our busy household, which includes my 3 year old grandson, two Shepherds, and our Maltese. He was a breeze to house train and his elbow and hip x-rays "came out beautiful".
Yori is a quick learner in obedience and excels in agility. I'm excited for what the future holds for us as a competitive team. I want to thank you for your integrity and continued support. I hope to drop by with Yori in the future for a visit.
Thanks,
Liz
---
Mary vom Denali & Raven vom Denali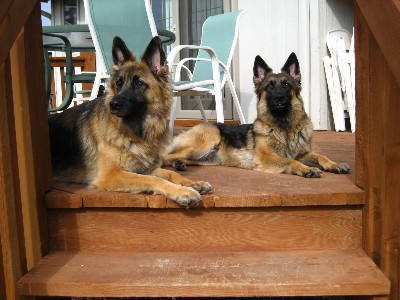 Call Name: Zoe & Raven
Location: Nebraska
Family: Hess
Owner's Comments:
Hey Jen! Just wanted to give you some good news about Raven and Zoe. Both of them passed their CGC test on the first try today!! We were so excited! They both just did awesome! The evaluators couldn't believe how attentive and focused they both were and said they must have come from excellent breedings. They also couldn't believe I'd only had Zoe for a couple months with how even tempered and handler focused she was. They were both phenomenal!! So, I just have to send in the paperwork to AKC and they will both be titled!! YEAH!! The only part Raven had trouble with was the supervised separation portion. I had to leave her with a stranger and go outside for three minutes. She whined for a little bit -- she is definitely a mama's girl! -- but then she calmed down and patiently waited for me to return. I have to admit though, too, Zoe has become quite the mama's girl too!! She loves nothing better than to cuddle now!! I just though I'd let you know! The next steps for both of them are therapy dog classes for Zoe and advanced tracking for Raven. We are planning on getting Raven's TD this fall and Zoe should have her therapy dog title hopefully by the end of the summer. I can't thank you enough again for such wonderful dogs!! They are truly a pleasure to have and to work! I'm so glad I was able to provide the two of them with a loving home and with jobs!! Thanks so much!
It was definitely very exciting! They just did phenomenal!! I couldn't have asked for better watchdogs and working partners and just good pets! They are so perfect!! Here are some pictures of the girls taken recently. Let me know if you have trouble opening them and I will try to send them in another format. I will send you pictures of them with their certificates when I get them from AKC! How are all the puppies doing? If I had room for a third dog right now, I'd definitely take Zofie. She is beautiful!! Her coloring on her body reminds me a lot of Raven's. What other litters do you have planned for this year?
Talk to you soon!
---
Ophelia vom Denali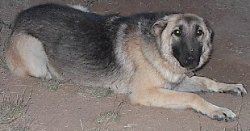 Call Name: "Fi Fi"
DOB: 02/13/2003
Location: CO
Family: Stewarts
Owner's Comments:
Hey. I just wanted to send you an email to tell you about an incident that happened today. I was outside in the front yard playing with Venus today. We were playing a nice game of tug when I noticed a guy and his young son (approximately 4-5 years old) come around the corner at the end of my block walking a dog. The little boy was holding the leash. Well, I knew what was going to happen even before it happened. The other dog spotted Venus and I, and pulled the leash out of the little boy's hands. It came running towards us. So I picked up Venus and called Fifi, who was just inside the open front door chewing on a hoof. Fifi came outside and spotted the other dog running at Venus and I. Fifi ran out into the front yard in front of Me and Venus, and started growling and got her hackles up. This didn't deter the other dog a bit. It kept coming at us. As soon as it got near Fifi, she immediately went into attack mode. She grabbed the other dog, which was a young weimariner (sp?) nearly Fifi's size, and practicaly flung it down on the ground. The other dog immediately went into avoidance and ran back down the block to its people.
After that the man came over to me and told me he was going to report me to the MP's. He said he was going to have them take my "vicious" dog away. So I promtly told him that he didn't have a leg to stand on. He had not had his dog under control and it came into my yard to attack me and my puppy. He didn't like that one bit. He left and took his dog, which look as though it had been beaten with a whip, with him.
I thought this was awesome. I have never seen Fifi act like that before. She is generally pretty neutral to other dogs. In this circumstance, she did exactly what I hoped she would do.
Well, that's all for now.
-Andrew
---
Rowan vom Denali

Call Name: "Rowan"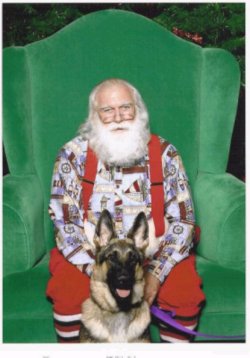 DOB: 04/11/2004
Location: CO
Family: Olewinski's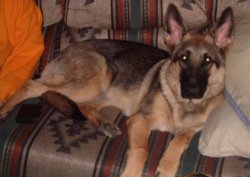 Rowan is a spoiled rotten, back talking, Mommy's dog that began her career as a seizure alert dog the day she went home at 8 weeks of age - it just took her new owners a few weeks to understand what she was telling them.
---
Roc vom Denali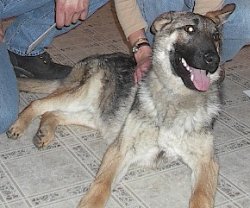 Call Name: Roc
DOB: 04/11/2004
Location:
Family: Van Aken
Roc had been chosen as a physical assistant dog for a client. His training began seriously at 16 weeks when he was able to go out in public to learn proper etiquette in malls, restaurants, schools and other places of business as well as to use elevators, escalators and stairs. Roc's littermate Rowan is working as a medical alert dog here in Colorado.
Roc's career as a balance dog was unfortunately ended when a delivery driver entered the property with no notice and hit him with a trailer. His left rear thigh was broken (and very successfully repaired!), the ball of his right hip was pushed clear through the socket and his pelvis was fractured in at least 2 places.
Roc's recovery has been remarkable as is his will to live and DO everything. We were going to opt to keep Roc as a breeding male since we knew his hips were good prior to the accident, however he is related to all but 2 of my breeding females!
Roc has been placed as a therapy dog for an owner with panic attacks. He is a happy, outgoing, into everything type of "pup" with an extremely HIGH pain tolerance (he cried only twice from the time he was hit through his recovery and was walking on the right leg the day he was hit!). He loves attention, uses his mouth, has nice house manners, is crate trained, house trained, no begging, good with cats/horses/dogs/cattle/sheep/goats/alpaca, loves kids and is just a joy.
---
Libby vom Denali DOB
Call Name: Libby
DOB: 08/31/2002
Location: CO
Family:
Young adult female returned due to previous owner's change of circumstance. Excellent on leash basic obedience - heel, walk on, sit, down, come, stay, leave it as well as Gee and Haw (left and right) commands, still working on off leash. LOVES children, good with livestock EXCEPT horses. Crate trained, good in the car, seems to be completely house trained. Good with cats and other dogs, not an alpha female in any way. DOES NOT BEG!! We had Libby sitting in the front seat floorboard while eating on the way home and she totally ignored the food.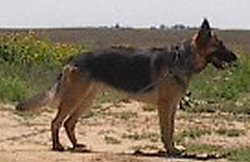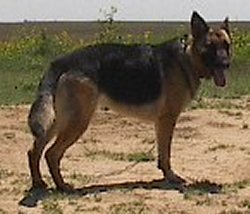 Top two pictures at 23 months. Bottom picture at 3 months.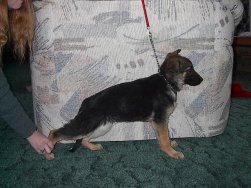 Impeccable manners in public, has been to malls, hospitals & schools, walks stairs and handles escalators and elevators without hesitation. Very aware of what is going on around her at all times
---
Name: Shannon vom Denali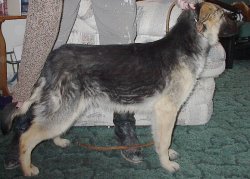 Call Name: "Shannon"
DOB: 05/11/2004
Location: Ellicott, CO
Family: The Webbs
Standard coated smaller female. She is a lovey, quiet pup that already trail rides and has good ball drive, likes to snuggle, is crate trained and is on the quieter side. She is NOT an alpha dog and gets along with everyone.
---
Robyn vom Denali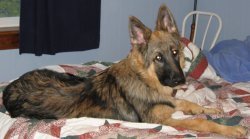 Call Name: "Hunter"
DOB: 04/11/2004
Location: CO
Family: Ouellette's
I thought you might enjoy seeing how Hunter has progressed since his arrival to our family. Hunter Kodiak Denali- aka: Robin Vom Denali; Born in the April 11th, 2004, litter is now six months old. He is the newest member to our family and is a great addition. Hunter brings much love, companionship, fun, and lots of creativity to us and this surrounding environment- it is amazing how they explore items you never thought possible- he brings many a smile to your face. He has been incredibly adaptable -goes to work with us, stays at friends, and enjoys being with other dogs. Hunter rides well, loves the mountains, hiking, exploring, and especially loves water (anything from showers, baths, lakes, rivers, puddles, pools and rain!). We start an obedience class next week for six weeks. He is already mastering many commands and we could not have asked for a better fit. He will go to the vets in December to be neutered and I will send you the supporting documentation so we can receive his AKC papers. Thank you for being so good at what you do. He is the perfect fit.
---
Charlie vom Denali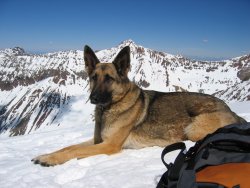 Call Name: "Charlie"
DOB: 11/19/1999
Location: Telluride, CO
Family: Heerwagen
Owner's Comments: I bought Charlie from you in the fall of 2000. He was around 8 months when I bought him, but I can't remember his parents, maybe Merlin and Heidi. Charlie's been wonderful. He has an abundant amount of energy which enable him to accompany me running in the summer and backcountry skiing in the winter. Charlie is always ready to go with me and has an extreme sense of loyalty. He is my favorite companion and buddy, always aiming to please. He is obsessed with fetching and will retrieve anything thrown in front of him for hours. When the thrower has had enough, we have to hide the frisbee to make Charlie stop. At the age of 4, Charlie has hit maturity and mellowed out a bit. He can relax at home when I am out, but he always prefers bring on the go.
Here is a picture of Charlie on top of Campbell Peak in March.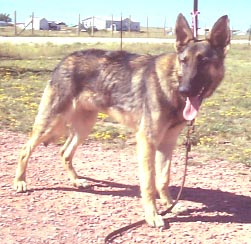 Charlie made it up with ease and followed us on our ski down. While he looks serious in the picture, he also has a goofy side that comes out often.
Just wanted to give a little feedback about Charlie from our life here in Telluride, Colorado. - Elizabeth Heerwagen
Charlie at 8 months
---
Nestle vom Denali
Call Name: "Nestle"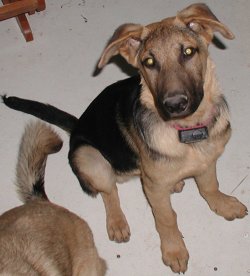 DOB: 01/24/03
Location: CO
Family: The Clouses'
Owners Comments: Nestle at 16 months is a whopping 30 inches (much bigger than expected or planned) and is still maturing. His ears are still "working" on coming all the way up and he's still gaining weight to fill in his large frame, at 80 pounds, he's still on the light side.
---
Newton vom Denali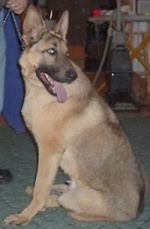 Call Name: "Newton"
DOB: 01/24/03
Location: CO
Family: The Diazs'
Owners Comments:
---
Penelope vom Denali
Name: Harley
DOB: 19 September 2003
Location: CO
Family: Mr. Reedy
Owners Comments: She's 60 pounds at 6 months on the day of this picture.
---
Paddy vom Denali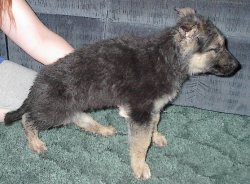 Name: Paddy
DOB: 19 September 2003
Location: CA
Family: The Curtiss'
Owners Comments: Paddy will be flying out to CA to join his half sister Nessie and the Curtis household. They are eagerly awaiting the arrival of this special little guy. He's had surgery on his injured knee and immediately post op it was better than they hoped for at full recovery!
---
Patti vom Denali
Name: Shasta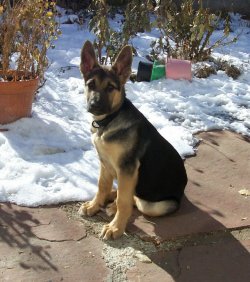 DOB: 19 September 2003
Location: CO
Family: The Ashbaugh's
Owners Comments: She is doing well. Around 30 pounds now. I take her for a mile to a mile and a half walk twice a day around the two ponds in our area. There are several other dogs in our area that also go on walks, so she has some fun running with other dogs.
---
James vom Kirschtal
Name: JJ
DOB:
Location: Highlands Ranch, CO
Family: M. Blumenfeld
Owners Comments: "I don't mean to brag but I've already received four, yes four big kisses from James! thanks!"
"Had to throw the (tennis ball the size of a bowling ball) away because he started to eat it! We now use rubber Kong balls. I played with him so much tonight that he just laid down in teh middle of the yard and said, "I quit"! He is fantastic Jen."
"Forgot to mention that my neighbor is the head of the Colorado State Patrol. He was cleaning his car tonight and James jumped right in. SO, James and I get to go on a ride along with him one night when he is on patrol. Brett thought it would be cool to have him to intimidate any suspects. Sounds fun huh?"
---
Ivan vom Denali
Call Name: Ivan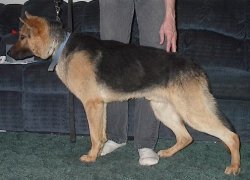 DOB: 11/04/2001
Location: New Mexico
Family: The Rodgers
Owners Comments: I thought I'd write to tell you how Ivan did. for about the first ten minutes after we left, I could tell he was so scared at having to leave with strangers, but eventually he laid down and went to sleep. Now for the big news, NO CARSICKNESS! The whole way into town we were expecting the drooling to start any second but it never did. Anyway, once we got to Colorado Springs, we stopped at the Petsmart and got Ivan a brush, new collar to match his cape, new pinch collar (with the larger prongs), some liver treats, some lamb treats, several toys, about 6 hooves, a backpack, a foldable water bowl, and a huge pillow-type dog bed. We folded the dog bed and put it in the floor of the truck to where it was level with the seat, so that he would have more room to stretch out.
Then, we went to the hotel and he was wonderful. Unfortunately, he got a little more to eat than we intended. For dinner, we ate at subway and I didn't like the sandwich I got so I wrapped it up and threw it away. When I went to sleep, I tied him to my wrist so that if he moved I would wake up. At first he was ok, he even woke me up to take him outside to use the bathroom. Unfortunately, when I woke up in the morning, he had somehow gotten loose without waking me up and had gotten into the garbage. He ate several pieces of paper, an entire 6 inch roast beef sub with lettuce, tomato, and mayonnaise, an entire bag of M&Ms and several dog treats (he had chewed into the Petsmart bag.
So me and mom were absolutely expecting the worst on the drive home and we were prepared with plastic bags and paper towels. But once again, he didn't drool, wasn't restless, and didn't get sick at all! We think it may have something to do with having the air conditioner up high, because if we turned it down, he would start to drool, but would stop as soon as we turned it back up. We didn't even have to give him one of those pills or make any extra stops.
He also had his first three experiences inside places. I put his backpack on and he went into two gas stations and a Wal-mart. He was wonderful the whole time and didn't give me any problems at all. By the time we got home, it was too late to take him and my dogs to the park, so we kind of improvised, and introduced Chaz (my Akita) and Ivan on the sidewalk in front of my house. I could not have asked for better results. Ivan immediately accepted the fact that Chaz was the dominant male and Chaz was thrilled to have someone to play with. In fact, they were playing so hard that when the were chasing each other, Ivan tried to come to a stop in the kitchen and skidded about 7 ft right into the cabinets and it didn't even phase him, he just stood up and dove right back in. My cat even accepted him with no problems and they all got along so well that was even able to let him sleep in my room outside of the crate.
All in all, he's fitting in very well and hopefully things will continue this way!
Thank You!!
Ashley Rodgers
Ivan has been placed as a physical assistance dog. Besides the many favorable comments on his looks, we were told he has the "perfect temperament" for the job. Ivan's sire is working as a bounty hunter's protection/apprehension dog.

---
Nessie vom Denali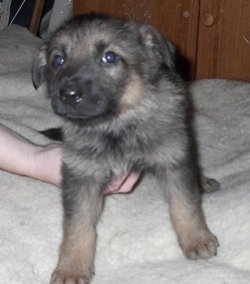 Call Name: "Nessie"
DOB: 01/24/03
Location: CA
Family: The Curtiss'
Owners Comments: "Jennifer,
Brief up date. Vet check she's perrrrfect but then I'm sure you already knew that. Allen and I are amazed as to how well she's adjusted. Dr. Burton was impressed with her and the fact that she comes when called, crate trained (excellent last night ) and that she fetches her tennis ball and brings them right back to me. She's amazing, just amazing. Right now she's sound asleep lying here next to me so contented and relaxed (just let me try to get up she'll know ). Be sure that she's loved and will be taken good care of... Nessie had her first visit with the trainer. She got all A's. He checked her prey drive...no problem, right on to using rib bones for correct trng. She was so cute and so ... so smart. ( We were told that she came from a good breeder ). Wants her to socialize a couple times a week and work on correct trng. techniques (me). Then at 6 months her trng. really begins. This young girl is going to teach this old girl a thing or too.... Nessie will be going all the way to master protection."
-- Ms. Curtiss -- March 2003
---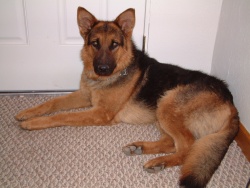 Enzo vom Denali
Call Name: "Buddy"
DOB: 05/12/00
Location: CO
Family: The Endress'
Owners Comments: "Hey guys!! Enzo (aka Bub, E-dog, Fuzzlebutt, Stinky Head, Goon, or Waggles) is finally settling in, and is doing great!! I have been working with him quite a bit with non-verbal commands... he has managed to get sit, stay, down, speak, heel, come, and is able to stand in front of me with his front paws in my hands... ALL on non-verbal commands! he is doing quite well with the same in verbal commands as well. He has pretty much stopped his temptations to destroy things when I leave, in fact I spent 4 days out of town, while a friend watched him and I was told he was an angel! He is also becoming considerably more attentive to outside sounds and disturbances.... All-in-all he is really growing into his personality, and has been able to distinguish between work and play."
-- Wally Endress -- September 19th, 2002
---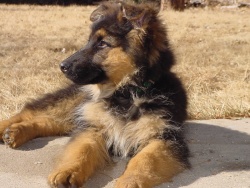 Harri vom Denali
Call Name: "Harri"
DOB: 10/25/2001
Location: Denver, Co.
Family: The Andress family
Owners Comments: "We just wanted to drop you a line to let you know that Harri is doing well and to send you a few pictures. He had a visit to the vet on Friday to finish up his shots, The vet says that he is in fine shape. He also visited the trainer today for an evaluation and will be starting class next Thursday. The trainer said that he is a very even tempered and intelligent dog and should take very well to training."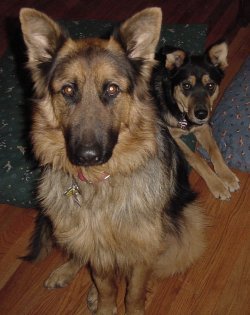 -- Jason and Samantha -- February 23rd, 2002
Picture taken at 2 years of age.
---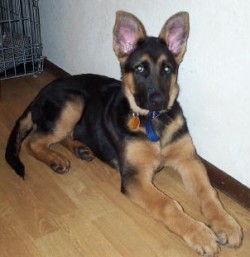 Harley vom Denali
Call Name: "Harley"
DOB: 10/25/2001
Location: Fraser, Co.
Family: The Robinsons
Owner's Comments: "Jen,
We just wanted to get in touch and let you know how well Harley is doing. We took him to the vet today. He finished up his puppy shots and weighed in at 38 pounds. He's doing good with house training, etc, and is really playful with everyone and other dogs. We have been enjoying him a lot, even when he's naughty. I've attached a picture. It's not the best but, you can tell what a good looking pup he is."
-- Seth and Emma -- February 6th, 2002
It's been a long time since we sent an up date on Harley Vom Denali aka "Byron"! Well he is loving it here in the mountains of North Carolina, and is still great company and a lot of fun. He loves going to work with me and he cannot get enough of the lakes and rivers out here, in which he just loves to swim in!
We are planning on, in the near future getting him a buddy and thought that we could not go wrong, getting another puppy from Denali Kennels. We have been checking your website regularly and when we saw the information of the upcoming "w" litter we thought that it would be a great opportunity for us.
Could you please send us any additional information that you have on this upcoming litter and what we need to do in order to reserve a male from the "w" litter. We plan on taking a road trip out to Colorado to pick up the puppy as soon as it becomes available, we beleive this will be around July according to you website.
We are very excited to bring another Denali German Shepherd into our home and look forward to hearing from you soon.
Seth Miller & Emma Robinson - 14 January 2005
---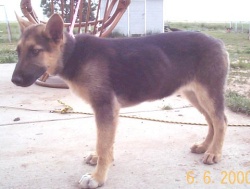 Dierdre vom Denali
Call Name: "DeeDee"
DOB: 02/07/2000
Location: Nebraska
Family: The Hudsons
Owner's Comments: "Dee is doing great!!! Everyone loves her. She's been going to work with Randy. She absolutely knows when he's ready to leave and beats him to the door."
--The Hudsons -- January 22nd, 2001
---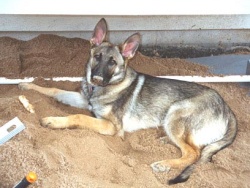 Casey vom Denali
Call Name: "Storm"
DOB: 11/19/1999
Location: Highlands Ranch, CO
Family: The Messicks
Owner's Comments: "Just wanted to let you know Storm is doing great on his 2nd birthday. He has more character than we know what to do with and is way too smart for his own good. He is getting a doggie cake today. We will e-mail you some new pictures as soon as we get our scanner hooked up."

--Scott Messick -- November 19th, 2001
---
Darth Arimus vom Denali
Call Name: "Darth"
DOB: 02/07/2000
Location: Indian Hills, CO
Family: The Blaines
Owner's Comments:
---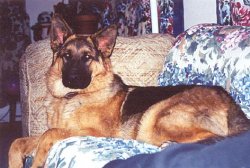 Alphons vom Denali
Call Name: "Duke"
DOB: 04/25/1999
Location: Kiowa, CO
Family: The Fishers
Owner's Comments:
---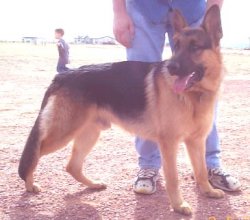 Axel's Pride vom Denali
Call Name: "Scooby Doo"
DOB: 04/25/1999
Location: Pueblo, CO
Family: The Mills
Owner's Comments:
So true... Just when you need it the most,
and just when you expect it the least, an angel
can appear. And sometimes, instead of wings, they come on four legs and wearing a fur coat.

Scooby was my angel but I did not realize it until he was gone. Thank you for the greatest dog I have ever had in my life.
---