Name: Andy Braky
DOB: 3 June 2004
Dam: Axina pod Ostrym vrchom SVV1
Sire: Anouc-Lar Leomegy SchH2, SVV1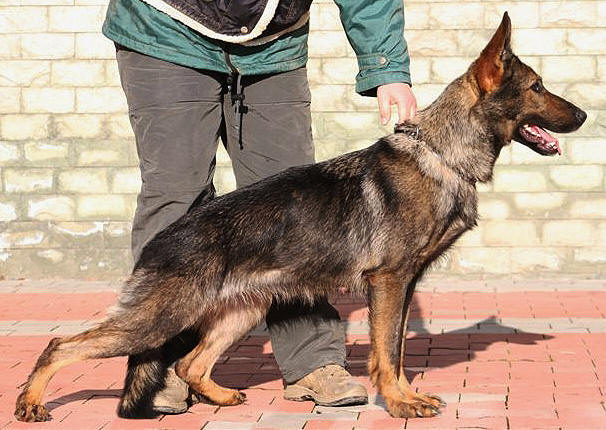 We are in love with this girl! She has attached herself like velcro to Rob and is now joining him at the office daily - must have something to do with the french fries and the 3 hour ride from the airport. Andy gets along with the other females, adores the kids, has high prey drive, is very handler sensitive and is just a plain joy to have around. Her biggest "fault" is her intense want to eat cats. Andy is on the smaller side of breed standard, has beautiful pigment, carries the solid black gene and is an incredibly fast learner. She is a beautiful sable standard coat and is much more of a wolf grey sable than this picture shows.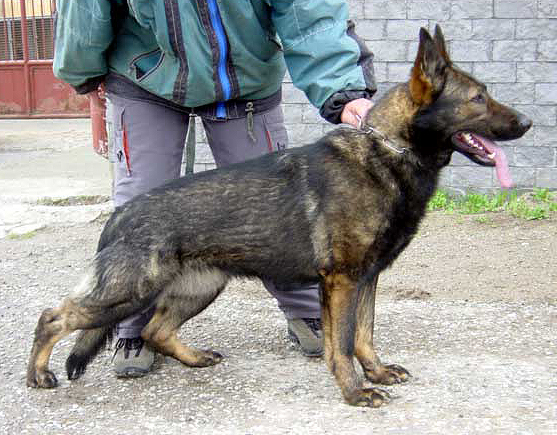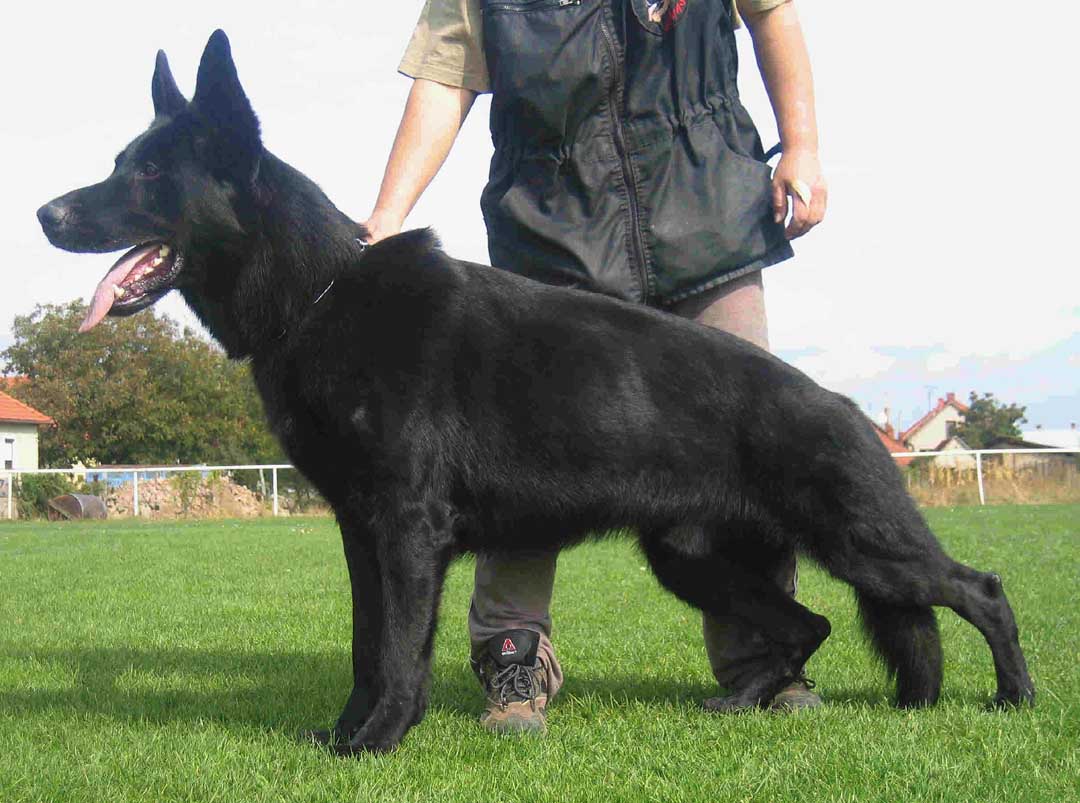 Axina Anouc
---
Name: Yannaba vom Denali
DOB: 26 June 2006
Dam: Kira vom Denali
Sire: Highviews Giffy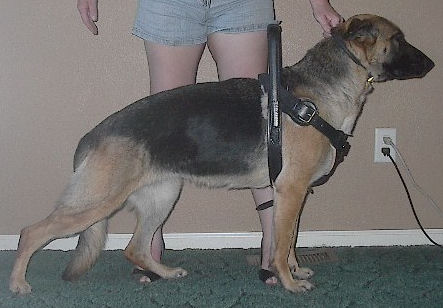 Yannaba ('Naba everyday) has taken over from her mom as my personal mobility assistance dog. Beautiful conformation with amazing etiquette for an 18 month old pup, she is a fast learner with a serious love of play when her harness comes off. She is a 3rd generation dog for us.
Naba works every day and is thriving on it. Whether it is doing chores around the house, out in the pasture or in town, she's ready and eager to go. She receives compliments everywhere we go and has experienced everything from moving cattle to trail rides to the Ren Faire to 16 hour days in town doing doctor appointments and shopping as well as the ER and kids school productions. At 24 inches, she's topped out in height and still building muscle. Many people say Naba is "exactly" what they want in a GSD.
Picture dated June 2009 - Naba is a classic black and tan standard coat
Name: Zelda vom Denali
DOB: 24 August 2006
Dam: Ulla vom Ausland
Sire: Highviews Giffy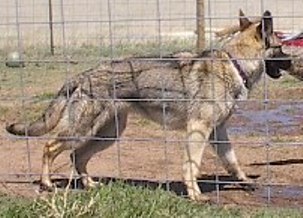 Zelda is a more dominant female and can be very bossy with the other girls. Close to "perfect" working conformation, mid sized, broad chest, nice rear, loves attention. Wants to please but you must earn her respect. Takes beautiful bites for her age. KONG CRAZY We will be continuing her drug detection training that was derailed by my health issues.
Zelda produces even tempered pups with excellent drives for work and absolutely correct conformation.
Picture at 10 months. Zelda is a close coated sable
Erin vom Denali
DOB: 15 January 2009
Dam: Kira vom Denali
Sire: Tank z Eurosportu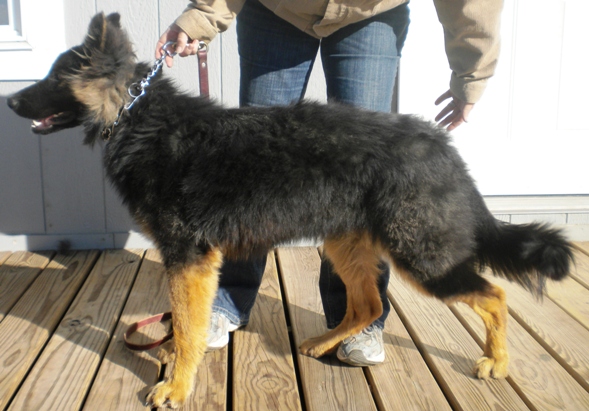 A black and red bi-colour female carrying the solid black gene from her sire, Erin represents some of our hopes for our next generation. This girl has been paying attention and LOOKING at people since she was 4 weeks old. She is a dominant female and at 10 weeks was picking up anything from keys to milk jugs to more appropriate toys. Picture at left taken at 9 months and below at 11 weeks. Erin is a Long coat.
Erin will be started as a true herding dog for sheep/goats/rodeo cattle to take advantage of her prey drive. Do not look to see her in herding competitions as she will be a real working dog on the ranch if she does as well as expected in this line of work.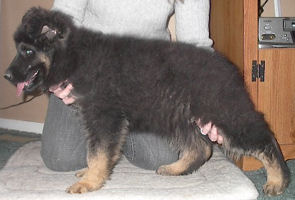 ---
Dike vom Denali
DOB: 31 December 2008
Dam: Andy Braky
Sire: Tank z Eurosportu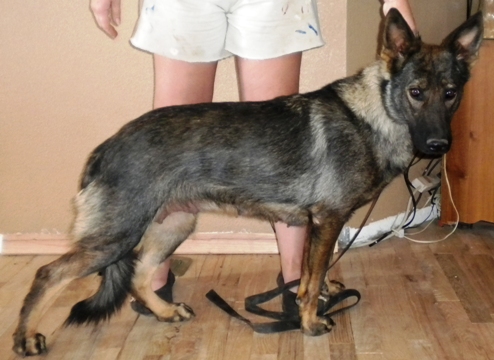 Her name means "Goddess of Justice" and if the gods are just, she'll live up to her genetics and grow up to be a knock out with a work ethic to die for!
Picture at right taken at 2 years, below at 9 weeks and 9 months. This girl is stocky, thick and DRIVEN. Prey and fight drives are pronounced yet she loves to snuggle with her people as long as cats aren't around.
She is slightly smaller and heavier boned than her mother, but otherwise almost a carbon copy. We are very happy with her progress. Dike is standard coated and sable coloured and carries the solid black gene.
Hip x-ray is good and available for viewing.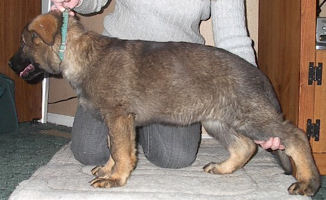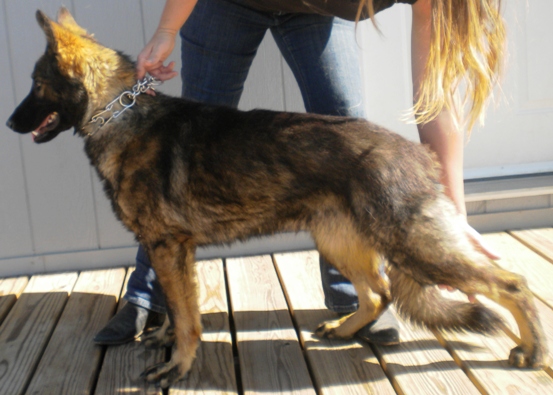 ---
Kira vom Denali
DOB: 08/18/02
Dam: Miss Heidi von Eidson
Sire: James von Kirschtal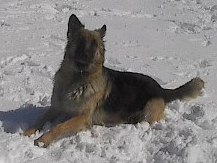 Kira is a black and cream/tan female with excellent drives, huge bone structure, desire to please and outgoing personality. She was born coated and when she shed out her puppy coat it came off like shearing a sheep. Kira shows a long coat with heavy under coat. Kira easily takes on training, is not dog aggressive and loves people. She is crate trained, housebroken, excellent obedience, does well in the car, alerts well, uses her nose, and will take a full mouth bite.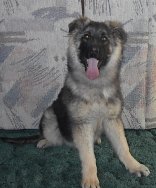 From fuzzy pup at right to sleek adult at left... what a change!
In one month of work, Kira learned "by me", "stay close", "sit", "heel", "at ease", "get dressed", "help me" and "leave it". She has successfully attended meetings, gone grocery shopping, done demonstrations at the school, attended restaurants, sat in the front seat of the car ignoring the burger and fries, learned how to maneuver on tile, wire, grates and concrete floors, elevator etiquette, and how to successfully get on and off an escalator. She also knows that I *always* go to the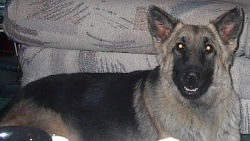 coffee shop so whenever she smells one, she heads for it! We have worked at different speeds & with different equipment (canes, walkers, O2 machines, motorized shopping carts, regular shopping carts and wheelchairs). We are working on "take it" and "stand" and "open" commands. Then we will move on to pulling work. Hip xrays are GOOD and available for viewing.
---
Honour vom Denali
DOB: 30 May 2009
Dam: Andy Braky
Sire: Tank z Eurosportu
With this pedigree, this girl was born to work and excel at whatever job we decide to train her in, yet still be a very pleasant house-pet. She should also do very well in European style conformation showing. Honour is crate trained, working on house training, doing well in baby obedience, rides well in the car, gets along with all of our other dogs, does like to play with the cats (nicely) and is NOT to be trusted with birds. She has high prey drive and is both food and praise motivated. She loves the water, is excellent for bath time/grooming and with her pedigree will make a wonderful addition to our breeding program.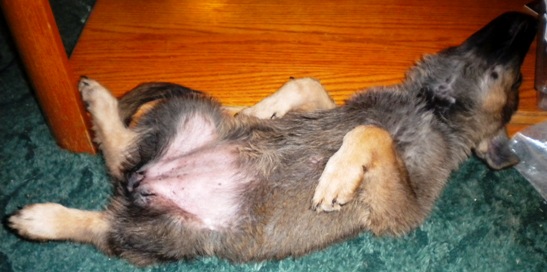 Honour in her favorite sleeping position under our feet at 3 months.
---